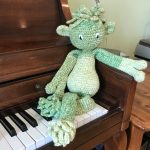 Thanks for visiting the Baylor Music Studio!  (Our studio mascot, Fern FiddleFingers welcomes you too…)
Use the buttons above or the navigation bar at the top of the page to find the information you're looking for.
Interested in learning more about lessons?  Use the "Contact Me" link to send a message.